Fire Emblem Warriors: Three Hopes - The Loop
Play Sound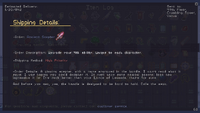 The Ancient Scepter is a rare utility item in Risk of Rain.[1] It upgrades a Character's 4th ability.
List of Upgraded Abilities
[
]
Commando
[
]
---
Enforcer
[
]
---
Bandit
[
]
---
The Huntress
[
]
---
HAN-D
[
]
---
Engineer
[
]
---
Miner
[
]
---
Sniper
[
]
---
Acrid
[
]
---
Mercenary
[
]
---
Loader
[
]
---
CHEF
[
]
---
Trivia
[
]
This is a reference to the item found within Dota and Dota 2 called Aghanim's Scepter. It does the same thing in this game as it does in that game (upgrading the "ultimate ability" in a way that is unique to each character). They are also similar in appearance. In addition, the description states "It's much better than your Lance of Legends," which references League of Legends, which is a MOBA styled game just like Dota and Dota 2. The text referring to the handle being "hard to hold" in order to "cull the weak" either refers to the massive difficulty many new players have when playing Dota and its sequel.
Starbound is also a reference to another game published by Chucklefish of the same name.
Surprisingly, the item's estimated delivery date is 1/30/1142, which would mean either the item has traveled quite far in time, or the package got lost mid-way.
Gallery
[
]
References
[
]