Not to be confused with Frost Relic (Risk of Rain 2).
"
Killing enemies surrounds you with icicles.
"
— Pickup Text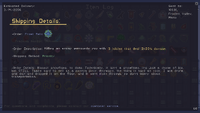 The Frost Relic is an uncommon damage item in Risk of Rain. On killing an enemy, surrounds you with 3 icicles that deal 3x33% damage.[1] These three icicles rotate around the player while moving towards and away from them. They damage nearby enemies. The particles pierce an unknown amount of times.
Shipping Details
Estimated Delivery:
03/14/2056

Sent to:
10681
Frozen Valley,
Pluto



  Shipping Details:       

Tracking Number:  744

▪▪▪▪▪▪▪▪▪▪▪

-

:  

Killing an enemy surrounds you with

3 icicles that deal 3x33% damage.

-

:  Biggest snowflake, to date. Technically, it isn't a snowflake, it's just a chunk of ice, but STILL. That's hard to sell as a museum piece. Anyways, the thing is hard as rock; I got drunk one day and dropped it on the floor, and it went right through, so don't worry about transportation.

75
When activated, the player(s) can sit on a climbable entity to inflict damage to opponents and heal without being atacked from land-based enemies.
Character Synergies
Edit
---
Item Synergies
Edit
---
The icicles can Crit. Therefore, picking up items like Lens-Maker's Glasses, Harvester's Scythe, etc., is a smart idea, and will double its damage.
Combining the Tesla Coil with the Frost Relic creates a good combo for getting rid of swarms of small enemies from below (ie: near the top of a rope/ladder). The electricity kills a few enemies, which generates icicles, which then grinds the enemies to a pulp, further fueling the icicle generation.
With many icicles, one can crash the game and end runs, so caution is required.
References
Edit
Community content is available under
CC-BY-SA
unless otherwise noted.