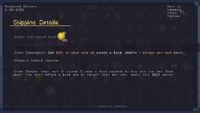 The Gold-plated Bomb is a use item in Risk of Rain that trades half of your current gold for a bomb that will deal an amount of damage equivalent to the amount of gold you've spent.
Shipping Details
Estimated Delivery:
5/28/2056

Sent to:
Warpship,
xeron TC,
Neptune



  Shipping Details:       

Tracking Number:  808

▪▪▪▪▪▪▪▪▪▪▪

-

:  

Use

50% of your gold

to create a bomb, dealing

1 damage per gold spent.

-

:  Yeah, so? Of course I made a bomb powered by how rich you are. Dude, what? You can't afford a bomb out of money? What are you... poor? It's JUST money.

99
Tactics
[
]
If you have 10,000 or more gold, using this item and hitting an enemy will unlock the "Deal 5000 or more damage" achievement.
Upon detonation, a fraction of the gold spent will drop and be automatically picked up again, though not nearly as much as was used.
Character Synergies
[
]
---
Item Synergies
[
]
---
Having a couple of Smart Shoppers and Life Savings can increase the damage of this bomb without worrying spending money on other purchasable items.
Trivia
[
]
Bugs
[
]
Gallery
[
]
References
[
]