"
Smite them. Smite them all.
"
— Pickup Text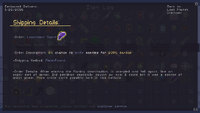 The Legendary Spark is a boss damage item in Risk of Rain. On hitting an enemy, the player has a 8% chance to smite enemies for 200% damage and deals explosive damage.[1]
Shipping Details
Estimated Delivery:
1/28/2056

Sent to:
Lost Planet,
Unknown




  Shipping Details:       

Tracking Number:  677

▪▪▪▪▪▪▪▪▪▪▪

-

:  

8%

chance to

smite

enemies for

200% damage

-

:  After slaying the flaming abomination, it crumpled and fell apart, like an empty suit of armor. Its pauldron especially caught my eye; I could tell it was a source of great power. More armor can't possibly hurt in this hellhole.

21
Tactics
[
]
The Spark produces an effect identical to the Ancient Wisp's attack. It's most effective in large crowds.
Character Synergies
[
]
---
Useful for melee classes and characters who will be attacking at a high rate, like the Huntress.
Item Synergies
[
]
---
Trivia
[
]
Gallery
[
]
References
[
]