Life Savings

---

Description
Generate $1 every 3 seconds.
Stacking
+1 gold generation rate

Unlock

Not Locked

Rarity

Common
Type
Support
Pickup Text
Earn gold over time.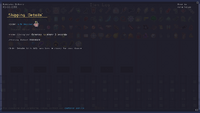 The Life Savings is a common support item in Risk of Rain.[1] Found in Chests, Shops, Roulette Chambers, and dropped by Bosses. The item does not have an effective cap. Every 3 stacks of Life Savings will earn approximately 1 more gold per second.
Shipping Details
Estimated Delivery:
02/22/2056

Sent to:
Moms House





  Shipping Details:       

Tracking Number:  235

▪▪▪▪▪▪▪▪▪▪▪

-

:  

Generate

$1

every 3 seconds

-

:  hi im billy and heer is money for mom thanks

42
Character Synergies
Edit
---
Item Synergies
Edit
---
References
Edit