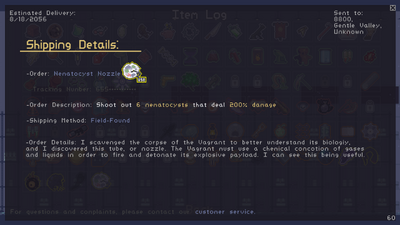 The Nematocyst Nozzle is a boss item in Risk of Rain dropped by the Wandering Vagrant. The Nematocyst Nozzle allows the player to fire a volley of nematocysts at enemies (functions similarly to rockets), similar to the attack of the Vagrant.
Shipping Details
[
]
Shipping Details
Estimated Delivery:
8/18/2056

Sent to:
8800,
Gentle Valley,
Unknown



  Shipping Details:       

Tracking Number:  655

▪▪▪▪▪▪▪▪▪▪▪

-

:  

Shoot out

6 nematocysts

that deal

200% damage

-

:  I scavenged the corpse of the Vagrant to better understand its biology, and I discovered this tube, or nozzle. The Vagrant must use a chemical concotion of gases and liquids in order to fire and detonate its explosive payload. I can see this being very useful.

17
Tactics
[
]
Because of its short cooldown, you can use this item more frequently and in less dangerous situations without worrying about having it on cooldown when you need it. This is further amplified by Rapid Mitosis.
Character Synergies
[
]
---
Item Synergies
[
]
---
Trivia
[
]
Bugs
[
]
Gallery
[
]
References
[
]