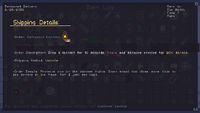 The Safeguard Lantern is a use item in Risk of Rain that drops a lantern that fears and damages enemies for 20% damage/sec; lasts 10 seconds.
Shipping Details
Estimated Delivery:
5/20/2056

Sent to:
The Watch
Camp 1
Mars



  Shipping Details:       

Tracking Number:  820

▪▪▪▪▪▪▪▪▪▪▪

-

:  

Drop a lantern for 10 seconds.

Fears

and damages enemies for

20% damage.

-

:  Protects you on the darkest nights. Don't stand too close; some claim to see terrors in the flame. Me? I just see hope.

89
Effective when needing to heal with bustling fungus
Character Synergies
Edit
---
Item Synergies
Edit
---
References
Edit
Community content is available under
CC-BY-SA
unless otherwise noted.