"
Chance to snare on hit.
"
— Pickup Text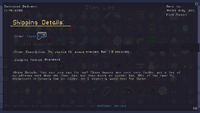 The Taser is a common utility item in Risk of Rain.[1] An image of a lock will appear over the enemy's head when snared.
Shipping Details
Estimated Delivery:
11/14/2056

Sent to:
94123 Bldg. 201,
Fort Mason




  Shipping Details:       

Tracking Number:  717

▪▪▪▪▪▪▪▪▪▪▪

-

:  

7% chance

to

snare

enemies for

1.5

seconds.

-

:  You say you can fix 'em? These tasers are very very faulty; got a few of my officers hurt they did. They fire, but the don't do nothin' like, 99% of the time! My department is running low on money, so I expect a good deal for these!

10
Tactics
[
]
Character Synergies
[
]
---
Item Synergies
[
]
---
Trivia
[
]
Although the taser prevents affected enemies from walking/running, it does not prevent teleportation (or lunge abilities).
The taser does not appear to affect the Magma Worm, Wandering Vagrant, Toxic Beast, or Colossus (additional testing required).
Some enemies, when affected, use ranged attacks and teleportation abilities more often.
Bugs
[
]
Gallery
[
]
References
[
]